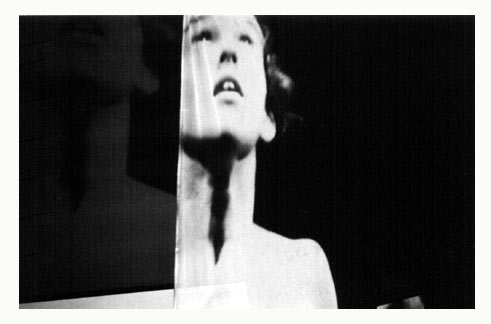 DELICIA. Instalación urbana. Proyección sobre tres capas de tul. 2001.
Una intervención urbana. Una irrupción en el pasaje de la ciudad. Una alteración de la costumbre. Una obra que no pide detenerse si no dejarse sorprender. Una mujer desnuda de tamaño natural aparece al final de un callejón sin salida. Es de noche y ella esta desnuda. La imagen es tenue y etérea, casi fantasmagórica. Se trata de una proyección sobre dos pantallas de tul desfasadas la una de la otra, que dotan a la imagen de una textura granulada y que provocan una fragmentación de la figura. Una mujer avanza, camina sin detenerse, de un salto desaparece y vuelve a aparecer siempre en el mismo espacio, siempre, y sin dejar de caminar.La aparición de esta imagen un el paisaje genera un sentimiento que parte de la incomodidad o de la incertidumbre, produciendo una perturbación al transeúnte o conductor casual.
DELIGHT. Urban installation. Screening over three tulles in the street. 2001.
An urban interference. An irruption in the city landscape. The alteration of custom. A work that does not ask to stop but to be able to be surprised. A naked woman of normal size shows up at the end of the alley without exit. It is the night and she is naked. The image is dim and ethereal, almost a ghost. It is a screening over two tulle screens not adjusted one to the other, which give the image a granular texture and provoke a fragmentation of the figure. A woman advances, she walks without stopping, she disappears in a jump and appears again, always in the same space, always, and without stopping walking. The appearance of this image in the landscape generates a feeling that arises from the discomfort or the uncertainty, disturbing the pedestrian or accidental driver.
DELICE. Installation urbaine. 2001.
Une irruption dans le paysage de la ville. Une altération de l'habitude. Une oeuvre que ne demande pas de s'arrêter pour la regarder, sinon de se laisser surprendre. Une femme toute nue, de la taille naturelle, apparaît à la fin de une ruelle. C'est la nuit et elle est nue. L'image est faible et volatile, presque fantasmagorique. Il s'agit de une projection sur deux écrans de tulle décalés en 20 cm l'un de l'autre, que donnent à l'image une texture granulée et que provoquent une fragmentation de la figure. Une femme avance sans s'arrêter, tout d'un coup disparaît pour re-apparaître, toujours dans le même espace, toujours dans arrêter sa marche. L'apparition de cette image dans le paysage génère un sentiment proche à l'incommodité ou à l'incertitude, en produisant une perturbation au piéton ou au conducteur qui traversent la rue.