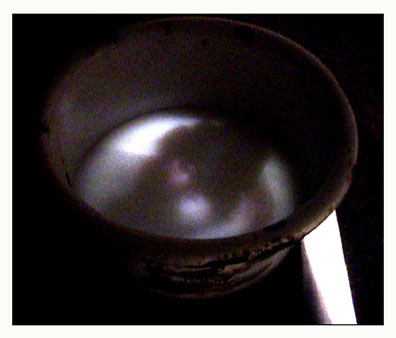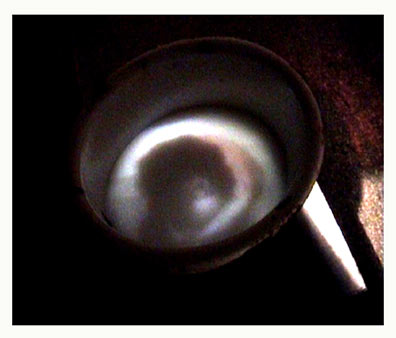 LA ESPERA. Videoinstalación. Proyección de sobre una palangana antigua repleta de leche.
Una mujer desnuda dentro de una palangana repleta de leche. Cierta pureza, un cuerpo desnudo y de leche. Bañarse en leche, purificarse. Volver a cierta tradición y revolcarse en ella. El espacio publico. Una miniatura de mujer. Pensar en Degas. Un tiempo muerto, un tiempo de nada, de apenas pequeños movimientos en algunas partes del cuerpo. Contemplación. No hay música que acompañe. No hay ninguna intención de condicionar la mirada. Calidez y encierro, una idea que se renueva. La paradoja de ciertos estados. La mujer pareciera no poder escapar. Está presa de una imagen o de cierta tranquilidad. El bienestar aplasta. La quietud puede volverse insoportable. La falacia de la libertad.
THE WAIT. Video-installation. Screening over an antique washbasin full of milk.
A naked woman inside a washbasin full of milk. Certain purity, a naked body and the milk. Having a bath with milk, purifying. Returning to some tradition and rolling about. The public space. A miniature of a woman. Thinking of Degas. A dead time, a time for nothing, of barely small movements in some part of the body. Contemplation. There is no music. There is no intention of conditioning the eye. Warmth and enclosure, an idea that is renewed. The paradox of certain states. It seems that the woman cannot escape. She is captured by an image or by some tranquillity. It is true, comfort overwhelms. Stillness can become unbearable. The falseness of freedom.
L'ATTENTE. Vidéo installation. Projection sur un bassin rempli de lait.
Une femme toute nue dedans une bassin rempli de lait. La pureté, un corps nue trempé en lait. Un espace publique. Une miniature de femme qui fait penser à Degas peut-être, à Bonnard. Un temps mort, un temps de rien, de petits mouvements en quelques parts du corps à peine. Contemplation. Il n'a aucune musique qui va avec. Il n'y a aucune intention de conditionner le regard. Tiédeur et enfermement. Une idée qui se renouvelle toujours. La paradoxe de certains états. La femme semble ne pas pouvoir s'échapper. Elle est prisonnière de cette image ou d'une certaine tranquillité. C'est vrai. Le confort l'écrase. La quiétude peut devenir insupportable. La tromperie de la liberté.